THE LIBRARY STACKS
How cool are these vintage pics?
I want to work there!!
Meanwhile, in our humble stacks…
We have ~ Chapter books  &  Paperbacks
FLSSYRA  or  Florida Sunshine State Young Reader's Award books
and of course, lots of Fiction, Non-Fiction, Biography, Newbery Awards and Caldecott Awards,
as well as Easy Fiction [story books and picture books] and Easy Non-Fiction for K-3.
New books are continually being added to our school collection here at St. Anastasia.
No matter whether books are bought, donated, procured from one of our book fairs, or left on the doorstep sort of speak, as soon as I can get them stamped, labeled, covered and cataloged into our database they are ready to be checked-out.
I will be posting pics from time to time on these new titles, series, sequel sets, companion books, etc.
[most recent at bottom of page]
Here's a look at a few sequels from last year that are being checked-out as we speak.
Two Newbery Award winners with sequels?
   Wow!  That rarely happens!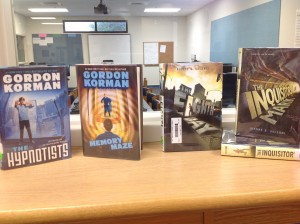 More Gordon Korman!
Two fantasy sequels from Dianne Salerni
These are creepy cool!
[3 more in this series available on the retail market]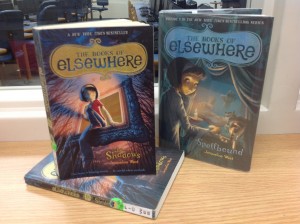 Even more Gordon Korman!!
Six sequel & companion books with Griffin Bing and Luthor!
Read them all — Find them all in our…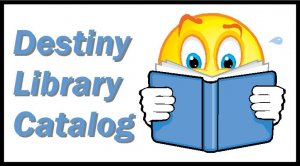 WARNING! WARNING! WARNING!
Love that!!
Our 5th graders are loving the Lemonade War series by Jacqueline Davies
…and who doesn't love more Pete the Cat!!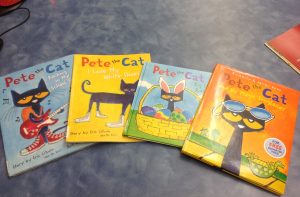 Look what fell into our laps!  The classic story by Wm. Steig from 1990- a first edition too!
SHREK!
[Yes, it was a book first!!]
Wow!  He's a lot meaner and uglier in the book… and she's even worse!
[I can't believe it's been 28 years!]
Now here's a cute book.  A children's take on the series all moms love.
Awww!
More awesome non-fiction hitting the shelves.
There's a constant trickle of new titles being added to our collection.  It's impossible to show even
a milli-fraction of them, but rest assured that the kids are loving them all!
I just finished covering 48 paperback books — next comes the hardbacks.
My order came in…  seven boxes from Follett waiting to be cataloged into our database!
Can't wait!!
Already covered though!!  Yay!!
 [….months go by ]
The books are out!!
The Follett boxes are empty and the new titles are in our database!
Just tweaking their records now for all the many special details that each book holds.
I customize each book's MARC record to our own collection to include as many categories as I can.  Also, any main awards that the title may have received, any additional subject headings that may help our teachers and students, and any seasonal, award, or shelf-placement labeling that may be needed.
There's a ton of details, but…  Hey!  I'm a detail person!
No problem!
The students will start checking these books out as soon as they hit the shelves.
Then I tackle the 5 boxes from Scholastic!!
I won't tell you how many are in my closet that need to be cataloged.
Here are a few pics of some of the Follett books.
A few funny, quirky chapter books and in-betweens.
One was even chosen for the FLSSYRA list.
[That's the Florida Sunshine State Young Reader's Award]
~Fish Finelli series  &  The Unseen World of Poppy Malone series~
I can't wait to read these two series myself!
I saw the Poppy Malone series on display at the New York Public Library in Manhatten
and I had to get it for our collection.  Can't wait!
Tara Dairman has a new series that's going to be a big hit!
The first one, 'All Four Stars' was also chosen to be on the FLYSSYRA list.
The Jonathan Auxier novel 'Peter Nimble and His Fantastic Eyes' isn't new, but somehow
we never acquired it.
It has become a classic in the world of children's lit, so I made it a point to put it on my list!
'Sophie Quire and the Last Storyguard' is the companion book published in 2016.
Now, we have them both!!
Weltman has written the classic mystery set in America's oldest city, historic St. Augustine, Florida.
Had to have it!!
Three Newbery Award winners!
Think- Past, Present, Future!
Two are on the FLYSSYRA list.  One has a sequel [on my next order].
One is on a must-read in your lifetime list and was published in 1958.
You can never go wrong with a Newbery Award winner in your hands!
'Certain Poor Shepherds' is a Christmas tale from the animals perspective.
This is their story.
"The author has had several other successful works of anthropology and animal behavior."
Can't wait to read!
This is just a small taste of the new titles from Follett.
Non-fiction coming up next!
Eleven new biographies in the True Book series have been added.
A dozen other biographies from Leakey and Goodall to Einstein and Hawking, and several in between have been added.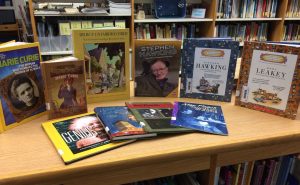 Two substantial books containing the stories of 33 remarkable women in science and medicine are in the grouping.
The reading level is up into high school, but we have some pretty smart kids around here!
Eight biographies for the primary library too!
Do you know who invented the TV, or the Ferris wheel, or children's libraries?
How about flying cars?
**
I ordered some pretty cool series also:
The Rock Cycle, Road Trip: National Park, Amazing Origami, History's Greatest Rivals,
Giants of Science and Dynamic Duos of Science.
In History's Greatest Rivals think…  Hitler vs. Churchill,  Capone vs. Ness,  Sitting Bull vs. Custer.
It's a little different take on history.  That's just three of the cool titles in this series.
Who doesn't like to try their hand at origami?  What?  You've never?
Get in here and check-out one of these new titles!  You'll be hooked.
The series 'Road Trip: National Park' is for the in-betweens.
Students who have outgrown picture books, checked-out all the animal non-fiction
and are starting to think on a more global level now.
They are shelved in the primary library.
***
Then, there's the Horseshoe Crab books…..  I'm so excited about these titles!!
These living fossils are one of the most important creatures in the food chain.
Not to mention, their importance to science research.  You would be amazed.
I saw a documentary on these prehistoric wonders and had to search for books to put in our collection.
Did you know that they are one of only a few creatures in the world that have blue blood?
They are incredible!!
That's just a few books from the latest order.
***
It's time for Halloween books already!
I just finished cataloging 14 new Halloween books into our database for check-out.
Who doesn't love Halloween?
Tiny pictures of mice in costumes, jack-o-lanterns on porches, spooky sidewalks with scary trees hanging over them…   they're the best!
I keep adding to our Who was, Where is, What was series books.
These are easy reads, but have lots of great information.
Right before summer I received 4 boxes of new books that I ordered.
I need to get those stamped, cataloged and ready for check-out asap!!
…more to come!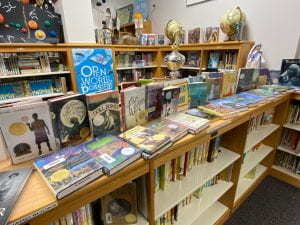 Our shelves are getting so full!
Love that!!
***
If you have something in mind that you'd like to see in our collection please come see me, or email me.
I'll try my best to get it.
See the page  'Stacks~Catalogue Peek'  for a list of the titles I'm working on now.  
[but not on this!]
😉